Fresh and Creamy Kate's Homemade Butter
Kate's Homemade Butter
24 Dairy Lane
Arundel, ME 04046

Tel: 207-934-5134
Fax: 207-571-9568
Made for ME™ are products, services, or businesses that operate in the state of Maine for Maine people. We recognize these companies on a monthly basis for the valuable work they provide to our state and the jobs they bring to our communities.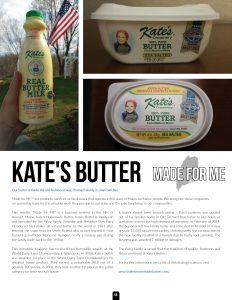 This months "Made for ME" is a business nestled in the hills of Arundel, Maine, Kate's Homemade Butter. Kate's Butter is family run and operated by the Patry family. Founder and President Dan Patry introduced his families all natural butter to the world in 1981 after learning the trade from his Uncle Roland who in turn learned it from Daniel's grandfather Alphonse Hemond nearly a century ago (dating the family trade back to the 1900s).

This incredible business has received two honorable awards at the World Dairy Expo Championship in Wisconsin; In 2008, Kate's butter was awarded 1st place in the World Dairy Expo Championship's for unsalted butter product. They earned a remarkable 98.8 out of a possible 100 points. In 2006, they took another 1st place in the salted category for their sea salt butter.
It hasn't always been smooth sailing – Dan's business was pushed out of his families home in Old Orchard Beach due to late hours of operation to meet the high demand of inventory. In February of 2014, the business left the family home and relocated in Arundel in a new upscale 17,600 square foot facility. Unfortunately, the construction of the new facility resulted in a lawsuit due to faulty roof paneling. The business was awarded 1 million in damages.

The Patry family is proud that the tradition of quality, freshness and flavor continues at Kate's Butter.
For further information and a list of distributing locations, visit www.kateshomemadebutter.com.