Interview with Candice Simeoni
Meet Candice, a loving wife and proud mother of a very active 4-year old boy.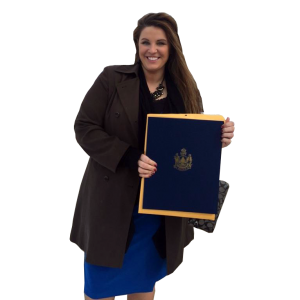 I've known Candice all my life and honored to call her my sister. It is people like her that convinced me that "Mainers Magazine" was a good idea. You see, Candice doesn't want the spotlight shined on her. She even argued with me when I asked her to be on the cover of my first magazine. She asked, "Why would anyone want to read about me?". The answer is simple. And here is why…
Candice Simeoni was born at Goodall Hospital in Sanford, Maine and grew up just a few towns over in Lyman. A small town with a total population of just over 4,000 people (based on census data in 2012). The family came first in her household of two loving parents, Robert and Cindy, and a brother, Rob.

Some of her fondest childhood memories involved supporting her brother at his sporting events.
"I remember my mother and I would dress in our Massabesic greens and head to the field hours before the games to decorate and show our pride and support. During the games, we could easily be found as the loudest fans complete with cow bells and fog horns. We followed his football team through the State Championship, never missing a game. "

Back at home, she remembers spending hours outside playing basketball in a homemade basketball court, riding bicycles and playing board games with family.
"We were a supportive, loving, traditional Maine family and I am proud to be raising my son in the same state and area that I have always called home."
Candice always had an interest in helping others, whether it was volunteering, working with special need students or just lending a hand to a friend. By 2004, her passion guided her to a career in Law Enforcement in which she accepted a full-time position as a patrol officer with the Kennebunkport PD.
"I had no law enforcement experience. Knowing that, I conducted ride alongs with five different area police departments. By spending time with these officers I was able to make up my mind that law enforcement was truly what I wanted to pursue. I used my experiences and knowledge I gathered while with these departments to guide me through my interview. I kept a log about my experiencing and even brought that to my interview to reference."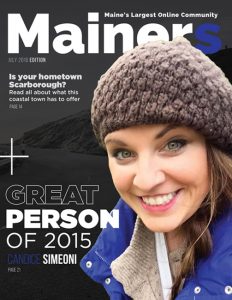 Candice attended the 9th Basic Law Enforcement Training Program at the Maine Criminal Justice Academy in 2005. She obtained her Bachelor's Degrees in Business Administration as well as Organizational Leadership Studies from the University of Southern Maine. She has received extensive training in the field of Elder Abuse, Domestic Violent, and Victim Assistance. She is a certified self-defense instructor, liaison with the Special Olympics of Maine and child passenger safety technician and voucher coordinator.
Candice has worked for the Kennebunkport PD, Eliot PD and is currently working at the Kennebunk Police Department as an Administrative Supervisor as well as the departments Court Officer and a Patrol Officer.
"All I can say is that I've only ever just wanted to help people. I know it's a cliché, but it's the absolute truth. It's just something I always wanted to do. And, to do that, I guess I wear a lot of hats."
Candice strives to live up to her quote, "Taking care of those…who once took care of us."
Candice's career achievements and successes include:
Nominated by citizens and winning the Kennebunk Post's "Greatest Person" award for 2015. http://post.mainelymediallc.com/news/2016-01-15/Front_Page/Great_Person_Award.html
Featured on the nationally recognized video produced by MPBN and hosted by Jennifer Rooks regarding elder abuse, Broken Trust. http://www.pbs.org/video/1410243734/
Sat on the board who guided the Martha's Cottage project
Awarded a Legislative Sentiment Award at the ONE HUNDRED AND TWENTY-SEVENTH MAINE LEGISLATURE SECOND REGULAR SESSION. http://legislature.maine.gov/house/hcal/h_20160216.htm
Volunteer work with Camp Postcard. https://www.youtube.com/watch?v=eqKAKJ3A4NM
Founder and chair of the York County Elder Abuse Task Force. The York County Elder Abuse Task Force, established in 2005, is a group of committed professionals from many fields, including but not limited to law enforcement, social services, legal services for the elderly and financial institutions. They come together to share their knowledge and skills, to serve as a resource to educate the public about elder abuse, and ultimately eliminate it as a problem in York county.
Starting "The Wishing Well"; a program which grants our local elders a wish of their lifetime but issuing an essay about an item on their bucket list that has not yet been fulfilled.
Sponsoring an annual scholarship for graduating seniors. This is based on a winning essay surrounding Elder Abuse.
Conducting mobile awareness discussions and presentations throughout the county
Holding an annual educational gala for professionals
Producing a training video and members being involved in our Elder Abuse related media productions –holding annual fundraisers
Attending as many events as we can to host a table of resources and educational materials relating to Elder Abuse.
Sending holiday messages, donating to holiday food programs and supporting local winter collections for our elders.
A Success Story: Remembering Millie

In July of 2014, Maine's oldest resident, 105-year old Millie Rennie of Springvale had a lifelong wish of meeting the former President of the United States, George H.W. Bush. Mary Jo Paiva, the resident care director of The Lodges Care Center in Springvale submitted an essay to the York County Elder Abuse Task Force (YCEATF) "Wishing Well Project", nominating Millie to fulfill her wish.

That letter landed on the desk of Candice Simeoni, co-chair of the YCEATF, she instantly knew she needed to find a way to fulfill this wish. She turned to Kennebunk's Police Chief Bob MacKenzie to find a way to make it happen. After much deliberation and a few phone calls, the pair showed up at the Lodges in Springvale with flowers in hand to greet Millie and whisk her away.
The first stop was Walker's Point in Kennebunkport to sit down with the former president. A dream come true!
One year later, Millie passed away at age 106. She will be forever remembered in the hearts of many, especially, Candice.
Why do you love about Maine?

From the rocky shoreline of the coast to the top of Katahdin Mountain, Maine has so much to offer. I am in awe of the beauty of the four seasons with my favorite being Fall. Fall brings beautiful crisp air, apple picking and bonfires in the evenings. Although my least favorite time of the year is during a harsh blizzard, the beauty of the calmness after a storm is serene and picturesque. Those who love the city life can get a taste by walking the cobblestone streets of the Old Port. While there, they can taste the palate of Maine by trying a Lobster dish with a starter of chowder, drinking a pint of Shipyard and finishing with a slice of Blueberry Pie A la Mode.
If you were given $500 (that could only be spent in Maine) how would you spend it?

Besides spending it on my family, especially for my dinner dates with my son, I would donate it to the Maine Special Olympics program; an organization who I have volunteered for and supported since my high school years.
What is one thing you would change about Maine and why?

Many of us Mainers joke about how the mosquito should be our state bird. Between those, the black flies and ticks…the perfect summer evening in Maine can quickly move from the patio to the living room.
Is there anything else you haven't shared with us?

Yes, I have a passion for baking! I get this from my mother who was a chef for over 30 years. I specialize in wedding cakes and cupcake towers. So, if you have an upcoming event, contact me.