My Hometown – Boothbay Harbor, Maine
Boothbay harbor is a mid-sized town located in the county of Lincoln. The population of Boothbay Harbor is more than 2,100 people according to a recently conducted census. This town becomes a famous spot for yachting in the summer which makes it an attractive tourist destination.
In 1842, the town was renamed as Boothbay, previously a part of Cape Newagen. The harbor continued to progress and develop its fishing activities. The Boothbay harbor is big enough to hold more than 500 vessels in case of unfavorable weather conditions.
By 1881, Boothbay harbor had developed into hosting a lobster canning factory, a fertilizer manufacturing company, two marine railways, an ice company, a fish oil company and a fishery company. Since then, developments have been on their peak which has led this harbor into becoming a popular tourist destination. The Boothbay harbor is also home to a state aquarium, several restaurants, boat tours to beautiful coastal islands, whale watching areas and mesmerizing art galleries.
Geography and Climate
The town is spread out on a land of 9.22 square miles or about 23.88 kilometers square. Out of this, only 5.70 square miles is land and the rest, water. The harbor is located in the Gulf of Maine which makes it a subdivision of the great Atlantic Ocean.
The temperatures can rise as high as 25.9 degrees Celsius to negative 11 degrees Celsius!
Boothbay Harbor as a Tourist Destination

The beautiful coastal town of Boothbay harbor in Maine is one of the most perfect destinations is you want to run away from the hustles of your everyday life. The town is rich in history and has quaint little local shops to high end boutiques so the tourists never get bored of their stay. What's more, the Boothbay harbor also boasts delicious dining experiences with top notch boat excursions for everyone to enjoy. There are so many things you can do to keep yourself busy at the Boothbay harbor.

To allow all the visitors to easily have access to all the plethora of activities there is a 1000 foot long bridge connecting the east and west sides of Boothbay Harbor. You can also witness the captivating rocky shores, quite peaceful coves, and huge island lighthouses.

The locals are so friendly and welcoming that you will quickly be turning strangers into best buddies to accompany you on your trip and walk you through the wonderful area of Boothbay harbor.

Attractions in Boothbay Harbor

Boat Tours

Boothbay harbor is also commonly referred to as the boating capital of New England. Every single day, there are about 25 boat excursions leaving the busy harbor and leading the travelers to a seemingly endless adventure full of excitement for all ages. These harbor tours and boat rides are the perfect way to explore the nearby islands and the magnificent sea life like puffins, whales and seals. According to your mood, you can either choose to go on a romantic sunset ride or a speedy windjammer to get that adrenaline rushing throughout your body. All the rides are led by world class captains who have been sailing across the world.
Monhegan Island

If you're visiting Boothbay harbor and have a little extra time on your hands, you will really enjoy a short trip to the nearby Monhegan Island. It is a relatively small and rocky island which is roughly about 10 miles away from the Boothbay harbor. This undeveloped island has no street lights, roads or cars; which makes it the perfect haven to get away from your busy lives. Only a few shops and inns are open on the island so you can sit back and relax with your favorite drink in hand. The island has 17 miles of beautiful trails – another occupying activity for the visitors.
All-in-all, Boothbay is a great place to visit no matter what time of the year it is but if you really want to relax, summer is definitely the best time. No matter where you live, one visit to the Boothbay harbor should definitely be on your bucket list!

Hiking Trails and Nature Walks

If you do not want to spare some time to go to the Monhegan Island, there are plenty of mesmerizing trails in Boothbay harbor. The town has more than 20 miles of trail which are open to visitors throughout the year. You can find trails for all sorts of ages and difficulty levels. You will be trekking through the beautiful meadowlands, lush forests, stunning wetlands and the rocky coast line to summarize all of Boothbay's beauty in one hike. In fact, you have pretty high chances of witnessing some of Maine's wildlife, too. And if that's not enough, you can stop over at the Barrett Park to enjoy some picnicking and swimming.

Coastal Maine Botanical Gardens

Spread out over 250 acres of land, the Coastal Maine Botanical gardens are something you should not miss out on. It boasts some pristinely loved and cared for flowers, waterfalls, stonework and gorgeous, lush gardens open to visitors throughout the years. These botanical gardens can also be home to parties, lectures and classes no matter what season it is.

Maine State Aquarium

For all the sea lovers out there, this will be the cherry on top to your visit to the Boothbay Harbor. Whether you are an oceanographer or just a kid – the Maine State Aquarium is entertaining for all. You can see the largest of lobsters in the most beautiful array of colors which your eyes might never have witnessed before. White, blue and calico's are just the beginning! There is also a petting tank made especially for the children where the kids can easily (and safely) touch some starfish and lobsters.
Things to do
Balmy Days Cruises
42 Commercial St.
Boothbay Harbor, ME 04538
207-633-2284
www.balmydayscruises.com/
Enjoy beautiful scenery, lighthouse and museum, hiking trails to the high cliffs, art galleries, quaint village, and whale and seal sightings.
Black Jack Sport Fishing & Charters
14 Williams St.
Boothbay Harbor, ME 04538
207-633-6445 cell: 207-380-5445
http://www.mainestriper.com/
The BlackJack, is a custom 28 foot Downeast Bass boat built by Captain Dan
for comfortable cruising and fishing on the Maine waters.The boat is equipped with state of the art electronics: fishfinder,
plotter and radar all interfaced for fish finding and your saftey. The strong Valmat diesel engine pushes BlackJack along at 25 knots.
East Wind Schooner
Pier 6 – Boothbay Harbor
207-633-6598.
www.schoonereastwind.com/
Sailing From Boothbay Harbor -Your two-hour voyage aboard Boothbay Harbor's largest schooner gives you time to relax and see the Maine coastline. Lighthouses, fishing lobstermen, wildlife, and remote islands accessible only by boat dot the seascape.
Sweet Action Charter Fishing
At Kaler's Crab & Lobster
Boothbay Harbor, ME 04538
Cell: 207-318-4898
www.sweetactioncharters.com/
With over 30 years of experience on the rivers of Maine, Captain Wolotsky will lead you to his favorite spots in the Kennebec watershed, home of world class light tackle Striper fishing. Wildlife abound, as eagle, deer, seals, otter, and osprey are all commonly seen. Few feel the affects of seasickness in this shallow water environment that resembles a lake or a river more than the ocean where we begin.perfection.
Boothbay Whale Watch
Pier 6 – Boothbay Harbor, ME 04538
207-633-3500, 888-942-5363
http://www.mainewhales.com/
Cap'n Fish's in the ORIGINAL Whale Watch in the Mid Coast Maine region, and have the most knowledge of whale feeding grounds, whale movement during different times of the season, and where to go for the BEST Whale Watch Experience In Maine. Founded over 80 Years Ago, we have been whale watching far longer than anyone on the midcoast.
Schooner Lazy Jack Cruises
Pier 1 – Boothbay Harbor, ME 04538
207-633-3444, 207-236-9761
www.schoonerlazyjackcruises.com/
Welcome Aboard Schooner Lazy Jack in Boothbay Harbor your Maine Vacation starts here. Join the Schooner crew for a 2hr. day sail or private charter adventure on Boothbay Harbor's oldest windjammer. Help hoist sails or take a turn at the wheel as we set a course out past Burnt Island Light, Squirrel Island, Ram Island Light and the outer islands of Boothbay. Keep a sharp eye out for porpoise, Osprey, Bald Eagles, and harbor seals as we slip by local boats setting their pots or hauling in the lobster catch of the day.
Charger Charters at Tugboat Inn
Boothbay Harbor, ME 04538
207-882-9309, Cell: 207-380-4556
www.chargersportfishing.com/
Captain George Warren has over 25 years of fishing experience in the Boothbay Harbor region. He and his crew will cater to the experienced and the novice angler.
Tidal Transit Kayak Company (and bicycle rentals)
18 Granary Way
Boothbay Harbor, ME 04538
207-633-7140
www.kayakboothbay.com/
We are located in the Chowder House building at 18 Granary Way next to the footbridge in downtown Boothbay Harbor. We are right on the water, with dock space at our shop, and on the other side of the footbridge, and we offer free access for folks who want to launch their own boats. We also have a full service location at Coastal Maine Botanical Gardens.
Burnt Island Living Lighthouse
Pier 8 – Boothbay Harbor, ME 04538
207-633-9500
www.keepersofburntislandlight.com/
The Burnt Island Living Lighthouse program is an unparalleled educational opportunity awaiting all who wish to learn about its maritime heritage. The restored buildings serve as a "living" history museum where interpreters portray a lighthouse family who once called Burnt Island home. Come learn about life on the island from Keeper Joseph Muise, his wife Annie, and their children as they recount their daily activities and share their stories.

Carousel Music Theatre & Supper Club
196 Townsend Ave.
Boothbay Harbor, ME 04538
207-633-5297/800-757-5297
www.carouselmusictheater.org/
An Evening At The Carousel…
Seating begins at 6:30pm. Relax and have a drink, browse our menu selections of soups and deli sandwiches. While you make your selection and are being served, your talented, charming and friendly servers entertain the audience with a lively cabaret featuring the best music from Broadway, composers such as Irving Berlin, Noel Coward and Howard Arlen, or marvelous singers of the 1920s-1960s, such as Frank Sinatra, Judy Garland, Patsy Cline or the Andrews Sisters.
The Opera House at Boothbay Harbor
86 Townsend Avenue
Boothbay Harbor, ME 04538
207-633-6855
www.boothbayoperahouse.com/
For generations, the stage of the historic 1894 Opera House in Boothbay Harbor, Maine has played host to actors and musicians from around the state and around the globe. With over 100 events and performances annually, there is almost always something happening at the House-an evening with a Grammy winning musician, a visit from a Broadway actor, nights of jazz or bluegrass, rocking Celtic concerts, lectures, holiday celebrations and community events fill our schedule. With fine acoustics, historic charm, a great old bar room upstairs and a commitment to reasonably priced tickets, the Opera House is a gathering place for the local community and visitors alike.
Gleason Fine Art
207-633-6849
31 Townsend Ave. Boothbay Harbor, ME
www.gleasonfineart.com/
Established in 1985 by husband and wife team Dennis and Martha Gleason, Gleason Fine Art has become a fixture on the local and statewide art scene. Originally opening in a tiny space on McKown Street, the gallery is currently located in a restored 19th-century farmhouse at 31 Townsend Avenue in the center of Boothbay Harbor. The gallery occupies the entire first floor. In addition to selling 19th through 20th century art, Gleason Fine Art offers collection consulting, art appraisals, and restoration services.
Mung Bean
207.633.5512 37 Townsend Ave Boothbay Harbor, ME
www.mungbeanmaine.com
Mung Bean is celebrating its 40th year owned and operated by the brother and sister team of Steven Madden and Susan Madden Billings. In the spring of 1974, nineteen-year-old Sue and sixteen-year-old Steve opened their craft shop in the small rural Maine town of Coopers Mills. They were energetic teenagers with the idea of promoting the work of Maine craftspeople.
The Harbor Theatre
207-633-0438
185 Townsend Avenue Boothbay Harbor, ME
www.harbortheatre.net/
The Harbor Theatre is a single-screen, family orientated movie theatre, featuring 26′ Screen, stereo-surround, air conditioning & real butter on fresh popcorn! Tickets on-sale 1/2 hour before showtimes. Discount Ticket Books & Gift Certificates available during our normal hours of trade.
The World Is Mine Oyster
207-633-6616
16 Wharf Street Boothbay Harbor, ME
www.mineoyster.net/
Mine Oyster is a two-storied ocean front building on stilts. Water is all around us and underneath us! It doesn't get any closer to the ocean, unless you are willing to get wet!
Barrett Park: Lobster Cove Road, Boothbay Harbor.
This town park features a large lawn, covered gazebo, restrooms, and two rocky beaches off Linekin Bay
 
Places to Eat
Boothbay Lobster Wharf
97 Atlantic Ave, Boothbay Harbor, ME (207) 633-4900
www.boothbaylobsterwharf.com
Rain or Shine! Boothbay Lobster Wharf is a working Maine lobster pound where you can watch all the steps involved in handling lobsters. We serve the finest seafood available straight from the ocean to you Pick your own Maine lobster from our salt water tanks, add an order of steamers and corn on the cob or enjoy dinners, chowders, sandwiches & grilled food on the wharf or in our enclosed dining area. We offer a full bar stocked with your favorite local ale's, wine & plenty of non-alcoholic choices!
The Lobster Dock
49 Atlantic Ave, Boothbay Harbor, ME · (207) 633-7120
www.thelobsterdock.com
Locally caught lobster is our specialty. Several hundred pounds are stored in our sea water tank. You may select your own from the tank and watch as they are prepared for cooking in our large outdoor pots. We have all sizes of the tasty shellfish, from one to four pounds. To those new to lobster, we will gladly assist on how to best eat them and explain the differences between hard and soft shell.

Ports of Italy
47 Commercial St, Boothbay Harbor, ME · (207) 633-1011
www.portsofitaly.com/boothbay/
We select our ingredients daily from a variety of local distributors and growers; providing our customers with the best of the area has to offer in local seafood, meats and vegetables while placing an emphasis on supporting our local community. Our specialties include homemade pasta, homemade ravioli, bread, focaccia and desserts all made daily using free range eggs.
McSeagull's Restaurant
14 Wharf St, Boothbay Harbor, ME · (207) 633-5900
www.mcseagullsonline.com/
McSeagull's Restaurant is a Boothbay Harbor favorite Home Town Pub with locals and visitors alike for almost 40 years. Our casual waterfront dining and bar will provide you with some of the finest meals and the best atmosphere in the region. Our new building was erected in 2008 and our deck was expanded in 2013, This provides for added seating and some of the best views of the harbor.
Kaler's Crab & Lobster
48 Commercial St, Boothbay Harbor, ME · (207) 633-5839
www.kalerslobster.com/
The Kaler family opened Kaler's Restaurant in 1998. Dan and Mary ran the restaurant for 13 years with help from their son, Sam. Dan passed in 2010. He is sorely missed by his family and many of Kaler's returning customers. Sam has assumed ownership of the business and you'll find not much has changed. Mary is still the familiar face greeting customers at the door, and Sam is still in the kitchen making sure all of the food is cooked to perfection.
Spots to Shop
Casual Interiors
16 Granary Way, Boothbay Harbor, ME · (207) 633-4273
www.casual-interiors.com/
Antiques, fine handcrafted home furnishings & gifts.
Inspired by nature & the sea
Interior Design
Boothbay Harbor Framers Gallery
185 Townsend Ave Boothbay Harbor, ME · (207) 633-3966
www.boothbayharborframers.com/
Our gallery is home to many local artists including Tony vanHasselt, Rick Dickinson, Allan Walton, Harry Day, Meg Azzoni, Earle Barlow, Cheryl Blaydon, Normand Chartier, Ruth Lepper Gardner, Ethel Fowler, Jack Macky, Keith Schneider, Hazel Nickerson and Ron and Monique Parry. We have original work, open, limited edition and Giclee prints by these artists, in addition to prints by N. C., Andrew, and Jamie Wyeth. Pottery by Anne Hedgecock of Stonehedge Pottery and one-of-a-kind pieces by Andersen Pottery of East Boothbay. Also, photography by Robert Mitchell and much more.
Boothbay Harbor Artisans
2 Wharf St, Boothbay Harbor, ME · (207) 633-1152
Our fine Maine crafts include beautiful jewelry, gorgeous stained glass, fine art and prints, hand painted ornaments, fine cut lampshades, sewn items for the kitchen and home decor, whimsical clay figurines, stone vases, fused & slumped glass items, knitted hats & sox, unique pottery, woodworking, nature photography and much, much more! We are located in the central Boothbay Harbor shopping area in the famous Custom House.
The Smiling Cow
14 Commercial St, Boothbay Harbor, ME · (207) 633-5088
www.smilingcow.com/
The story of Mrs. Margaret Hawkey, founder of "The Smiling Cow," one of the many attractive gift shops in this little coastal town, is the story of another woman who has learned that Shakespeare was right when he said, "Sweet are the uses of adversity." Like so many other courageous women, she has found that most difficult trials are often the spur to development of latent abilities.

Sherman's Maine Coast Book Shop
5 Commercial St. Boothbay Harbor, ME· (207) 633-7262
www.shermans.com/
In 1886, Bill sHerman opened shop printing local newspaper, and selling books and stationery.
Dirty Bird Pottery
4 Townsend Ave. Boothbay Harbor, ME· (207) 370-7022
www.dirtybirdpottery.com/
Dirty Bird Pottery owner, Julie Moore, is a mostly self-taught craftsman and focuses on creating functional pots for the home and garden. Her work is thrown on a potter's wheel at her small studio in rural King George, VA as well as her summer shop in Boothbay Harbor, Maine and fired in an electric kiln. These sturdy stoneware pieces are meant to be used daily and are completely food safe, dishwasher and microwave safe.
Sweet Bay
9 Townsend Avenue Boothbay Harbor, M · (207) 633-7100
www.sweetbayshop.com/
Sweet Bay Shop is known for its unique gifts, ranging from Maine made Sail bags to Goldfish Guitars. We strive for the best in products, variety and customer service. We look forward to welcoming you into the Sweet Bay Shop.
Ae Ceramics
93 Townsend Ave Boothbay Harbor, M · (207) 315-6221 · (207) 633-5900
www.aeceramics.com/
Ae Ceramics fuses beauty and function with the natural surroundings of ocean life on the coast of Maine, resulting in a line of dinnerware and gifts with design origins in shells found on our beaches.
Two Salty Dogs Pet Outfitters
22 Mckown St, Boothbay Harbor, ME · (207) 633-7387
www.twosaltydogs.net/
We are tucked away in a corner of Boothbay Harbor, away from the great restaurants and the mesmerizing waterfront and footbridge. We have a bench out front if you'd like to sit for a little bit and watch the cars and people go by. We certainly never tire of it.
Enchantments
10 Boothbay House Hill Rd, Boothbay Harbor, ME · (207) 633-4992
Wizard's Dream came flying thousands of little sparkles which I was taught were actually "Enchantments" and I was shown the way to open a store for the public to come share in all these wonderful gifts. Now, more than 20 years have passed with the store growing and growing.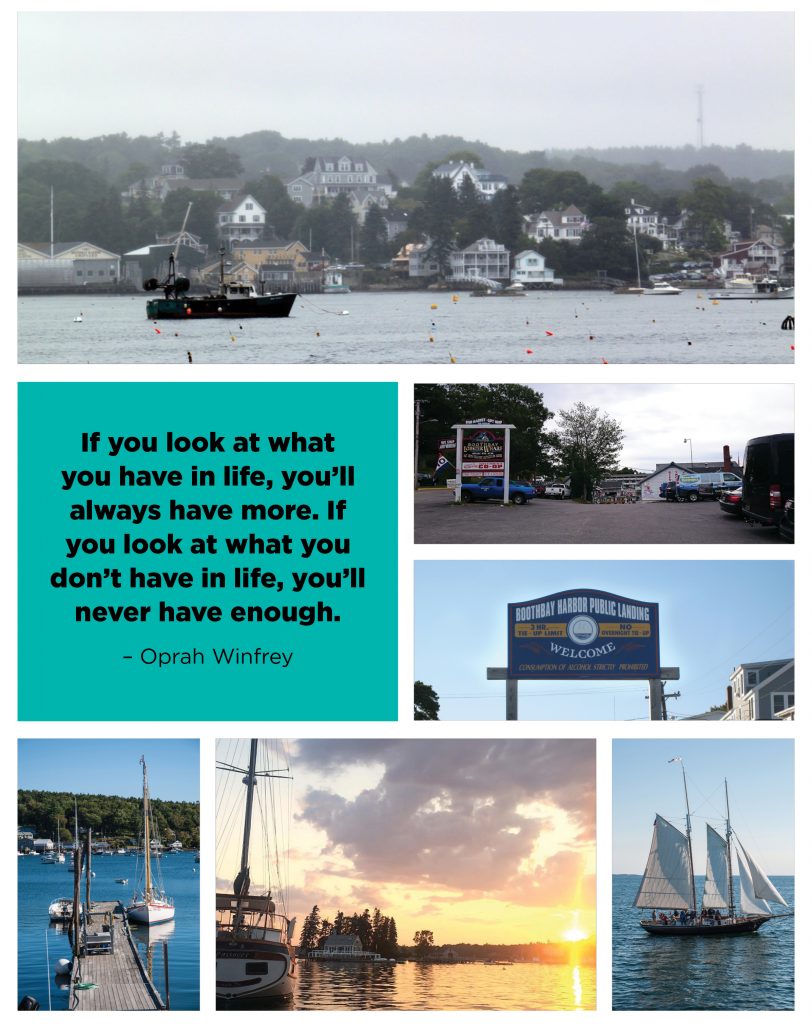 Where to Stay
Linekin Bay Resort
92 Wall Point Rd, Boothbay Harbor, ME · (207) 633-2494
www.linekinbayresort.com/
Linekin Bay Resort sits on 20 spectacular acres of oceanfront property on Linekin Bay in Boothbay Harbor, Maine. It is New England's only all-inclusive sailing resort and offers something for everyone. The possibilities are limitless. Perfect for family vacations.
Harbour Towne Inn on the Waterfront
71 Townsend Ave, Boothbay Harbor, ME · (207) 633-4300
www.harbourtowneinn.com/
Our family cordially welcomes you to our waterfront B&B Inn located in the heart of Boothbay Harbor. For 3 generations, we welcomed guests to The Harbour Towne Inn with classic Down East hospitality in a gracious setting overlooking the water.
Beachcove Hotel and Resort
48 Lakeview Rd, Boothbay Harbor, ME · (207) 633-9787
www.beachcovehotel.com/
Welcome to Beach Cove Waterfront Inn, a beautiful beachfront inn in Boothbay Harbor. Located just off Route 27 one mile from the hustle and bustle of downtown Boothbay Harbor, Beach Cove offers a quiet, secluded getaway that provides the perfect location for family vacations.
Spruce Point Inn Resort and Spa
88 Grandview Ave, Boothbay Harbor, ME · (207) 633-4152
www.sprucepointinn.com/
Spruce Point Inn is exactly what most guest's picture when they think of an oceanside resort in Maine. As a Conde Nast Top 25 Northeast Resort and the #1 Resort in Mid-coast Maine on Trip Advisor, the historic inn has attracted travelers from all over the world for over 100 years. With 57 acres of stunning waterfront, Spruce Point Inn is the perfect setting for creating "oceanside memories made in Maine."
Fisherman's Wharf Inn
22 Commercial St, Boothbay Harbor, ME · (207) 633-5090
www.fishermanswharfinn.com/
Explore the best of Boothbay Harbor from Fisherman's Wharf Inn. Conveniently located in the heart of downtown, our waterfront hotel is the ideal home base to explore all that beautiful Maine has to offer.