Honest Reviews by hungry Mainers
Two Mainers. Food. Drinks. Opinions. We are not professional food critics nor do we have culinary backgrounds. We are just two Mainers who enjoy dining around Maine. The restaurant does not know they are being reviewed.
Click to view the full article

"The Clambake is a unique restaurant where you choose from our large selection of fresh Maine seafood along with a great selection from our grill. After ordering your meal at our registers, you may choose a seat in any of our air-conditioned dining rooms; enjoy a cocktail or other beverage while your order is being prepared. When your order is ready, you may pick up your meal and enjoy the finest seafood you will ever taste! "
– Clambake Restaurant, http://clambakerestaurant.com/

The clambake is an "interesting" hot spot on Pine Point Road in Scarborough, Maine. The facility is very spacious with two large dining rooms, a covered patio that overlooks the marsh, a function hall, full bar, large entry way for ordering and pick up windows to get your food.
The dining experience is entirely self-serve; order at a register, wait for your number to be called, pick your food up at a window, add your own condiments and empty your tray once you are finished. It felt like a mix between a high school cafeteria and Cabela's. The food is served on paper plates and styrofoam containers and there are stuffed animals throughout the entire dining room.
The place is always packed. Why? I'm not totally sure. The food is nothing to rave about. It is overpriced fried and baked seafood. 
Overall, we would not make a strong recommendation to fellow "Mainer's", although, we can definitely see why it attracts tourist. We feel there are superior places in the area.
The Clambake offers a unique experience for tourist, but has some stiff competition in the local area.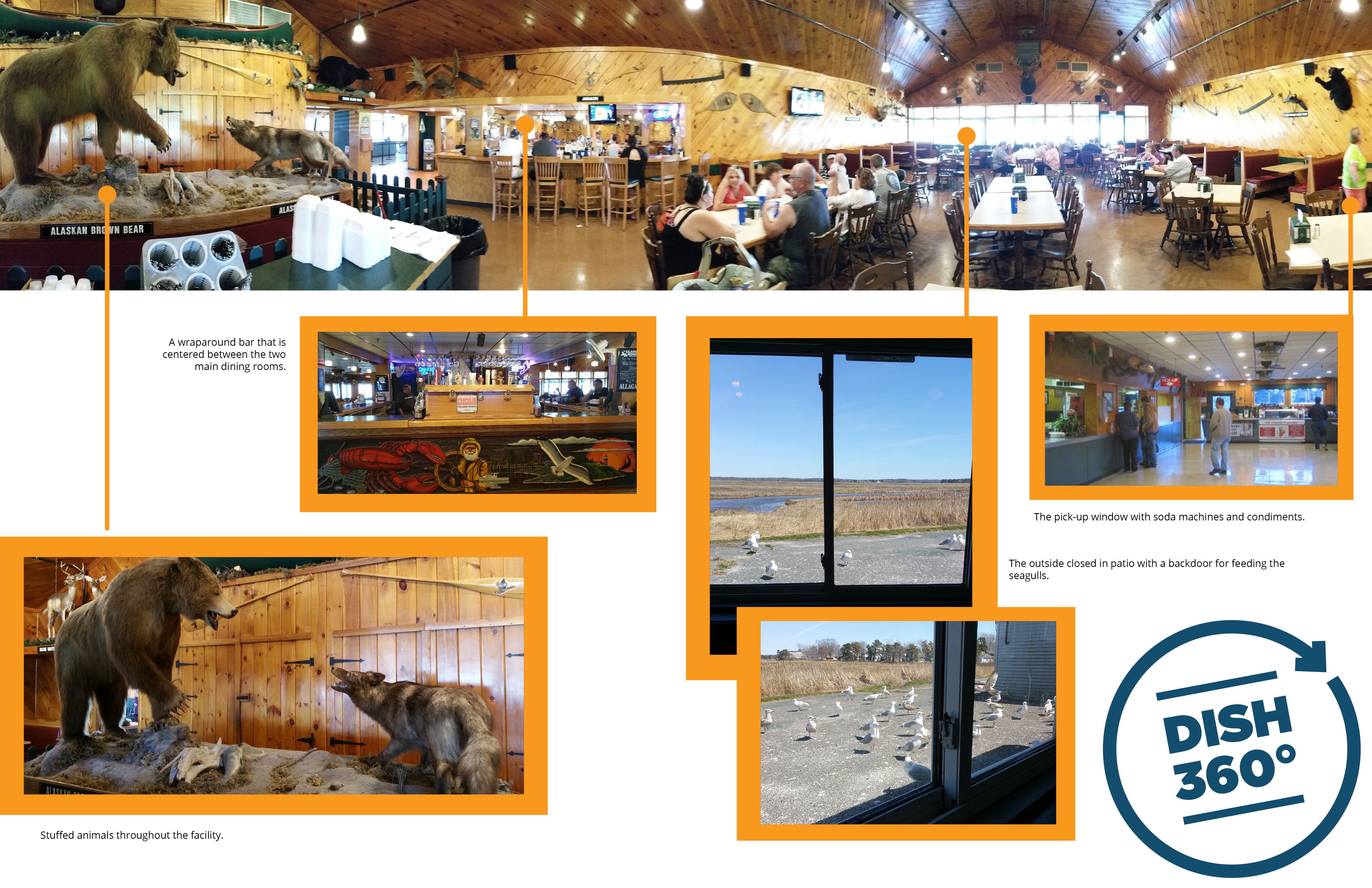 Clambake Rating
Taste: 7/10
We ordered the fried shrimp and scallops platter. The seafood and fries both tasted frozen. In Maine, freshness is so important. Minus 3 points as the seafood and fries were not fresh.

Appearance: 7/10
The food was a mound of french fries, limited scallops and baby shrimp. There were no lemon garnish or attempt to impress. Minus 3 points since the food was served on styrofoam, plastic containers, and trays.

Ingredients: 8/10
We expected the fresh Maine seafood taste, but to be honest, it tasted frozen. We did attend earlier in the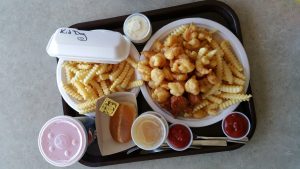 "summer season" so this may have been the reason. Minus 2 points due to a lack of freshness.

Complexity: 5/10
The menu did not offer any options that we would consider to be "complex". It is mostly batter and fry. Minus 5 points due to a lack of complex food options.

Food Selections: 8/10
The menu was like most Maine seafood restaurants – a lot of fried food. It was easy to see and visualize as they mounted pictures of the plates on their walls. Minus 2 points due to a limited "healthy" selection.

Drink Selections: 8/10
The Clambake offers a full bar that wraps around into both dining areas. They have specialty drinks and a wide variety of beer and wine. Minus 2 points as there are limited seating around the bar and no televisions to watch the game.

Price to Value: 6/10
We spent nearly $40 on a shared platter, kids hotdog, and drink. This was without tipping. We felt it was very overpriced considering our meal was mostly french fries and only had 3-4 scallops. Minus 4 points as it was overpriced for the quantity and quality.

Customer Service: 9/10
There are no waitresses at the Clambake. You order from a register and pick up your food at the window. The two ladies we interacted with were very warm and friendly. Minus 1 point for self-served.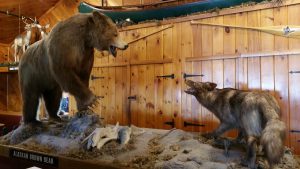 Facility: 10/10
The Clambake definitely has a beautiful facility. It is large, clean and offers a lot to see. Almost like a museum. 

Wow Factor: 9/10
The Clambake is a large facility with a lot of "wow" factor when you enter. There is a lot to look at and a lot of customers. Minus 1 point due to serving on styrofoam and trays (not so much "wow").

Total: 77/100 C
The Maine Dish enjoyed our visit to the Clambake, although, you can get a better bang for your buck in the area!